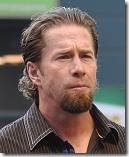 Jeff Bagwell tops the list again for Baseball Hall of Fame candidates. None of the first-year 2012 candidates makes the cut.
Brian Jordan leads the pack of non-worthy rookies, largely due to an impressive defensive WAR.
Tony Womack looks to be this year's Lenny Harris.
We have converted a baseball player's career Wins Above Replacement (WAR) into a rate statistic which indicates the average number of wins above replacement a player would give his team per single season (avgWAR). Baseball-Reference.com uses the following scale for WAR values:
8+ MVP Quality
5+ All-Star Quality
2+ Starter
0-2 Reserve
<0 Replacement Level
It is our proposal that players having an avgWAR of 5.0 or higher are worthy of induction into the National Baseball Hall of Fame.
Stats from Lahman's Baseball Database and Baseball-Reference.com.